Row Crop Flaming Kills Weeds, Grasses and Destroys Insect Habitat, without pesticides and is up to 50% more cost effective over other methods!
Flaming Can Be Used For Different Applications:
Red Dragon Row Crop Flamers offer producers many options for weed control while reducing or eliminating herbicide usage. Flamers burn clean, efficient, and affordable propane so there is no residue or run-off to worry about. Flaming can be done pre-emergence and post emergence and has been proven effective on a wide variety of crops including corn, milo, sorghum, soybeans, cotton, carrots, lettuce and many more. For more detailed information about row crop flaming and its applications see our Ag Flaming Guide

Flame Engineering Manufactures Flame Cultivation Equipment To Fit Your Needs:
Flame Engineering manufactures complete Row Crop Flaming Units and two styles of Row Crop Flaming Kits which can be used with your own toolbar or cultivator. Units are available in 2, 4, 6 & 8 row configurations.and Kits are available in 2, 4, 6, 8, 12 & 16 row configurations.

Red Dragon Flamers: Effective, Economical, and Pesticide Free!
Complete Row Crop Flaming Units
Red Dragon Row Crop Flaming Units come with everything you need except the tank and are available in 2, 4, 6 and 8 row configurations.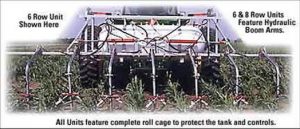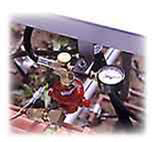 Complete manifold assemblies with electronic solenoids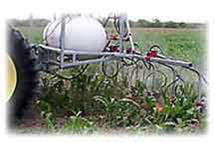 Units are designed to mount to a category 2 hitch

Cab Controls w/ master shut off switch
3 Torch Models To Choose From
Row Crop Flaming Kits
Red Dragon Row Crop Flaming Kits are available in two styles which can be mounted on your toolbar or cultivator. Kits are available in 2, 4, 6, 8, 12 & 16 row configuration with either skid style legs or drop legs

RKS Skid Leg Kit (Model 4-RKS Four Row Kit Shown)
RKS Skid Style kits feature the same tool bar legs as our complete units and allow the torches to remain at a consistent height while flaming. RK kits feature drop tool bar legs which are perfect if you do not want the ground disturbed by skids. If you purchase a kit, you will be responsible for devising you own safe tank mounting system, roll cage and control protection. Kits include everything else you need to connect to your tank including custom mounting brackets for the tool bar legs – just give us the dimensions of your tool bar.
ROW CROP FLAMING KITS INCLUDE:
• Complete manifold assemblies with electronic solenoids.
• Cab control box with master shut-off switch.
• Toolbar leg assemblies for (Skid Style or Drop Style.
• All burners required for your configuration.
• All necessary hoses cut to length with brass fittings.
• Fuel Strainer.
• Custom Mounting Brackets for the Toolbar legs.
2 RKS . . . 2 Row Skid Leg Kit
4 RKS . . . 4 Row Skid Leg Kit
6 RKS . . . 6 Row Skid Leg Kit
8 RKS . . . 8 Row Skid Leg Kit
12 RKS . . 12 Row Skid Leg Kit
16 RKS . .16 Row Skid Leg Kit
2 RK . . . 2 Row Drop Leg Kit
4 RK . . . 4 Row Drop Leg Kit
6 RK . . . 6 Row Drop Leg Kit
8 RK . . . 8 Row Drop Leg Kit
12 RK . . 12 Row Drop Leg Kit
16 RK . . 16 Row Drop Leg Kit
IMPORTANT NOTE ABOUT LP TANKS:
Always consult your propane dealer about purchasing the proper tank or have them check your existing tank to make sure it is clean and safe before you begin flaming. You MUST use a propane tank equipped with a Liquid Withdrawal Valve. Do NOT use a bottom withdrawal valve as any possible debris or scale may plug torches down the line. We recommend a top-mounted, liquid withdrawal valve with a dip tube which reaches close to, but does not rest on the bottom of the tank. Clean fuel and tank are critical for optimum performance of all flaming equipment.
Customer Testimonial:
My wife and I have a 15 acre farm in Phoenix Arizona where we grow vegetables using organic methods.  In growing organically we are very limited when it comes to weed control (we seem to grow more weeds than vegetables).  I watched your videos on Row Crop equipment and was sold on the idea.  Your staff was extremely helpful.  I must admit I was terrified at the thought of aiming a torch at the base of my sweet corn even though I had seen it done in the videos.  I think the hardest thing I have ever done was letting my foot off the clutch the first time I drove through my corn with my 2-Row Burner.  But guess what?…The corn survived just fine and the weeds did not!
Bob Berglund
Grandma's Farm
Row Crop Flaming FAQs
Question: What is the average fuel consumption per acre?
Answer: You can expect to use between 5 and 10 gallons per acre.
Question: How fast can I travel while flaming?
Answer: Around 3 miles per hour.
Question: How does flaming kill the weeds but not hurt the crop plant?
Answer: As long as the weeds are smaller than the crop, flaming will kill weeds without damaging the crop. The flames from the staggered torches are directed under the crop leaves and through the crop row. The flame will not affect the hearty stalks but will apply intense heat to the weed leaves and grass in the row causing damage to cell structure. This in turn destroys the photosynthesis process which kills the weeds.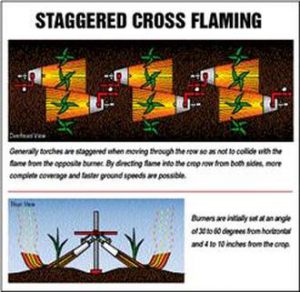 Question: How many times will I have to flame?
Answer: Once or twice is common, but it varies depending upon weed pressure and field conditions.

                 Click here to see the Flame Engineering Agricultural Flaming Guide

Made in the U.S.A.