Poultry House Flame Sanitation
The Red Dragon Poultry House Flame Sanitizer is the Natural Solution For Sanitizing in Commercial Poultry Confinement Areas.
• Intense Heat Kills Pathogens and Insects 
• Flares Off Ammonia Vapors  and Dries Litter
• Less Expensive Than Chemicals
• No Run-off, Residues or Water Contamination
• Great for Conventional & Organic Producers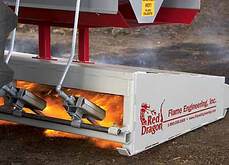 Reduce or eliminate chemical usage with the Red Dragon Poultry House Sanitizer
Watch this video about the Red Dragon Poultry House Sanitizer:
The Red Dragon Poultry House Flame Sanitizer is the fast, easy and effective way to sanitize poultry houses. The Red Dragon is designed to flame bare floors and litter. For best results flame bare floor after clean out and after each de-caking.
The flamer utilizes six LT 2 x 8 Liquid Propane torches that project intense, sweeping flames under a sturdy enclosed steel hood. The unit maintains heat approximately 1400° F which kills pathogens.
The unit is a snap to use. Connect the three point hitch and 12 volt wires to the tractor battery and you are ready to go. The flamer utilizes a standard 120 gallon propane tank. In field testing, fuel consumption was approximately 25 gallons when flaming a 40′ x 500′ house moving at 1/2 mph. Fuel consumption will vary depending upon temperature, travel speed, etc.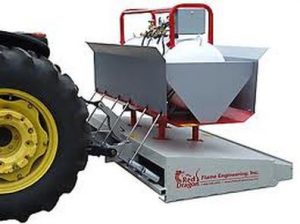 The sturdy Red Dragon Poultry House Flame Sanitizer quickly connects to the tractor with a three point hitch and Burns Clean Efficient Propane.
PL-8750 FLAME SANITIZER UNIT SHIPS FULLY ASSEMBLED AND INCLUDES:
• Category 2 –  3 point hitch

• Complete Manifold Assembly with electronic solenoids

• Cab Control Box with master shot-off switch

• 6 / LT 2 x 8 (1.15 Million BTU) torches positioned to cover a 7′ wide area under an insulated protective shield

• All hose assemblies fully assembled

• Fuel Strainer

• 120 gallon propane tank with liquid propane withdrawal valve, tank cradle, heat shielding and other safety devices

• Red Dragon Hand-Held Torch Kit for Lighting Burners & Sterilizing Corners/Edges.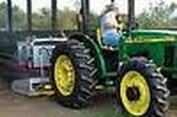 Hear what other producers have to say!
I am a poultry farmer for Perdue Farms. I bought my flamer to try to help my performance of my houses against a lot of windrowers. I could tell the first flock that it helped tremendous. Thanks R.G. Dillon, SC

" I had a very bad, chronic problem with dermatitis. It was so bad that if the poultry house sanitizer had not solved the problem, I was going to be out of business.

I did exactly what you told me to do. I flamed the houses, then turned the litter and flamed again. I flamed each house three times the first time and once each flock since then. It is making me money. I was finishing last now I am finishing first. The bonuses are great. Thanks Flame Engineering."
Ricky Ponder, Mount Olive, MS

"Since using the Poultry House Sanitizer, I have seen eliminations to my mortality rate. I am now finishing in the top 3rd in the company. I am happy with the results overall. I wouldn't do with out one. I bought this equipment for the disease problems and it has worked." Joe Lynn-Linden, TX

"This process has lowered my mortality rate. I am now finishing 5th in the company compared to before in 15th.  I have increased my settlement payments by $10,000. I am happy with the overall results and highly recommend this process to others." Brian Betts-Cookville, TX

"I've had a noticeable reduction in ammonia after treating with The Poultry House Sanitizer. I think this process is a great idea. I recommend this process to others because I believe it will take care of the bacteria problems."
Mervin Trull-Duback, LA

"I have noticed the best results of The Poultry House Sanitizer are getting rid of the darkling bugs." Buddy Hitt -Dalton, GA

"I've been very happy with the ammonia control. The mortality has been less the last two or three weeks of the flock. Also I have noticed more weight gain. Another reason to use The Poultry House Sanitizer is that its one less chemical in the litter. I would recommend it to other chicken house owners."
Ray Fiseher-Linden, TX

READ THE PROPANE EDUCATION AND RESEARCH COUNCIL'S PRESS RELEASE REGARDING AVIAN FLU AND THIS EQUIPMENT!

Made in the U.S.A.