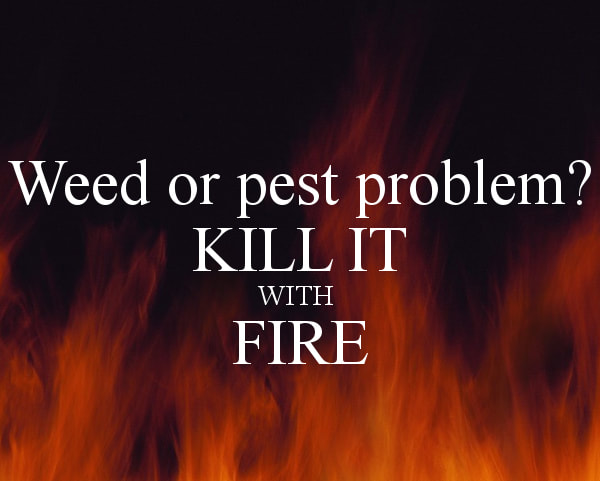 ARE WEEDS, DISEASES AND PESTS OUT OF CONTROL ON YOUR FARM?
Flame is the clean, green, safe way to reduce weeds, pathogens, insects and diseases from your farming operation! And, there's no better time than right now to order your Red Dragon Flame Equipment!
Flame safely controls darkling beetles, pathogens and ammonia in commercial poultry houses
You can control weeds and insects in your fields even when it's too wet to spray or cultivate
Get the jump on weeds before they get out of control with a fall or early spring flaming you can kill existing weeds and weed seeds and over wintering insects, eggs and habitat.
Pre-emergence flaming – or flame in the early growth stages for corn and other crops.

Don't miss out! ORDER NOW to save 5% off and get FREE FREIGHT on any Red Dragon Agricultural Flaming Equipment until November 30th 2018.

Take advantage of these discounts now, as prices are about to increase!
As an example, a poultry house sanitizer or a 6-row crop flamer purchased now with the discounts would save you around $1800.00! After January 1, 2019 the cost would be about $3000.00 more than the current sale pricing, including estimated freight. These incredible discounts apply to all types of agricultural equipment including all kits and ready-to-use units for poultry, dairy, row crops, vegetable beds, tobacco and more.
PRICE INCREASE ALERT On January 1st 2019 all Red Dragon Equipment will increase in price by 10% due to increased steel prices.
Call Charles House today at 434-960-6221 to request a discounted quote. Charles has many years of experience with Red Dragon flame equipment. He is interested in hearing more about your farming challenges in order to give you detailed guidance in selecting the Red Dragon Agricultural Equipment that is most beneficial to your farm.

For purchases over $10,000, we have partnered with Crest Capital for flexible financing programs. Take advantage of their limited time offer: "Crest Capital is committed to providing businesses with simple, flexible financing and leasing for equipment, vehicles, and software. And,
in conjunction with Section 179, we are granting Bonus Cash totaling $179 per every $10,000 that your business finances with Crest Capital." *
Thank you for your interest in flame technology, I look forward to talking to you soon about this great opportunity to add flame equipment to your farming operation!
see details on our website:
www.earthandskysolutions.com/equipment-financing   
*This bonus offer is exclusive for customers of Crest Capital,and ends December 31, 2018. Purchases of agricultural equipment are tax deductible under federal tax code Section 179 (consult with your tax professional for details)