You can farm without chemicals!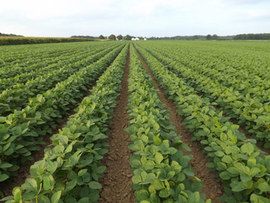 Our equipment will help you save money while saving the environment and improve the vitality and profitability of your crops and flocks.
From apples to asparagus, poultry to potatoes, corn to carrots, soybeans to sorghum, tomatoes to tobacco and many more; we have a chemical free solution  for the weed, insect and disease problems you are confronted with on your farm.
Flame technology has been used successfully for generations.
In recent years the use of genetically modified crop seed and  chemicals in farming has been popularized by the marketing efforts of a few large companies.
Many farmers are now seeing the harm and ineffectiveness of chemical usage and are looking for alternatives to GMO, chemical and antibiotic intensive farming methods.
The equipment we offer is specialized flame weeding equipment and kits to build your own. You can successfully flame weed alfalfa, wild or high bush blueberries, potatoes, row crops such as corn and soybeans, vegetable beds prior to planting and pre emergence for slower germinating crops such as carrots or beets. Flame weeding  vineyards and orchards and much more.
Flame sanitation implements are a very reliable way to kill diseases, darkling beetles and larvae in organic or conventional chicken and turkey houses. Another benefit to poultry house flame sanitation is the dramatic reduction in ammonia which saves many growers a lot of money in ammonia control chemicals as well as heating fuel and electricity, due to the fact that you can run your fans less often during the colder months of the year. 
For small and large scale vegetable growers we offer bed shapers and flame weeding equipment suitable for small farms and market gardens. (See our vegetable bed flamer for small scale farms.)
Whether you are a small scale organic farm or a larger scale vegetable or row crop grower, a contract poultry grower, vineyard or orchard manager, or you raise alfalfa for organic dairy cows or organic tobacco for one of the major leaf buyers, we have a solution to suit your particular situation.
Yes, you can farm without chemicals.
Please let us know how we can help you today.

Made in the U.S.A.